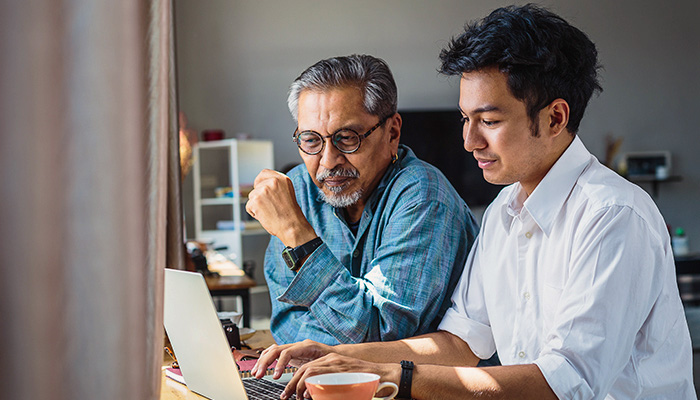 Elders hold a special place in our hearts – whether they're grandmothers and grandfathers, aging parents, or aunts and uncles. They're people who have worked hard, who enjoy life, and who inspire us every day. They look out for their families, but many also need someone looking out for them.
According to the U.S. Social Security Administration, instances of fraud targeting senior citizens quadrupled between 2013 and 2017 – and it's still on the rise. In this article, we'll walk you through a few steps you and your family can take to protect your loved ones from bad actors.
Prepare, Prepare, Prepare
The first step to preventing elder fraud is simple: Be Prepared. In this age of technology, nearly everyone has received a spam phone call, a suspicious e-mail, or a scary-looking letter. Your older family members have likely encountered these, as well.
So, start the conversation. Be aware of common scams, and talk to your elders about tactics bad actors will use – caution them to never give out personal, sensitive information over the phone, and remind them that a bank or government agency will not contact them demanding immediate payment over the phone, using a wire transfer, or using a pre-paid card. Make sure they understand that they should never rush into or feel pressured into a financial decision.
Gather the entire family together and create a plan to help your elders manage their finances. This plan should include proper disposal of sensitive information – such as shredding bank statements and old credit cards before disposing of them. You may also want to bring in a neutral third party, such as a financial advisor or a lawyer, as an extra set of eyes who can ensure that your loved one's financial wishes are followed as they age.
Make sure there are secure places to store documents, credit cards, valuables, and checkbooks, and that your loved one has easy access to them.
Finally, work to simplify and consolidate finances where you can, so that there are fewer streams of income to keep an eye on, and fewer opportunities for bad actors to strike.
Monitoring
Next, be vigilant – the easiest way to catch fraud early is to be on the lookout for it from the very beginning.
Make sure your loved one has a good relationship with their local banker or financial advisor so that these professionals can be on the lookout for suspicious activity and can quickly get in contact when something seems off.
Ensure you and your loved one are closely monitoring their accounts. With mobile banking technology, it's easy to set up an alert, warning, or notice for large purchases and withdrawals. But it's also important to pay attention to paper alerts – check the mail regularly and examine paper bank statements to ensure accuracy. Be alert for any changes in finances, no matter how small. Any aberration is worth investigating if it means protecting your loved one from scammers.
Common signs of fraudulent activity may include:
Large, frequent, or unexplained withdrawals or transfers between accounts.
A new, close "friend" who accompanies them to the bank.
ATM withdrawals when your loved one has never used a debit or ATM card.
Sudden insufficient fund activity or unpaid bills.
And don't forget to request an annual credit report! This will help you discover if anyone has stolen credit card information or opened a new credit card in your loved one's name.
This includes vetting any contractors or professionals completing work in your loved one's home, where they might have access to sensitive information. Be sure anyone you hire to complete work is licensed, trusted, and able to be held accountable.
Most importantly, keep in regular contact with your loved one: check in on them frequently, ask how they are doing, and know their routine. And talk to them about their finances. Keep them up-to-date on common scams, and discuss strategies that they can stick to in order to protect their information, such as consulting with an attorney or financial advisor before signing any documents they may not understand.
It Takes a Village
If this sounds like a lot to keep on top of, it doesn't have to be! Include the entire family from the beginning, and assign a trusted, responsible family member to be the "point of contact," who delegates and organizes regular meetings.
Then, assign financial management tasks to different people to help share the work. Keep lines of communication open and check in with each other frequently to make sure everything is going smoothly. You can have regular family meetings to discuss strategies, share information, and monitor the health of your loved one's finances.
Unfortunately, elders are often defrauded by people known to them – even by family members. This makes communication and accountability to others vital. By including others, and not placing all the oversight in the hands of a single person, you create a system of checks and balances that makes it more difficult for this particular type of fraud to occur.
Resources
If you believe you or your loved one has been a victim of elder fraud or abuse, contact Adult Protective Services in your state, as well as your local police department.
For more information, check out the FBI's elder fraud tips.