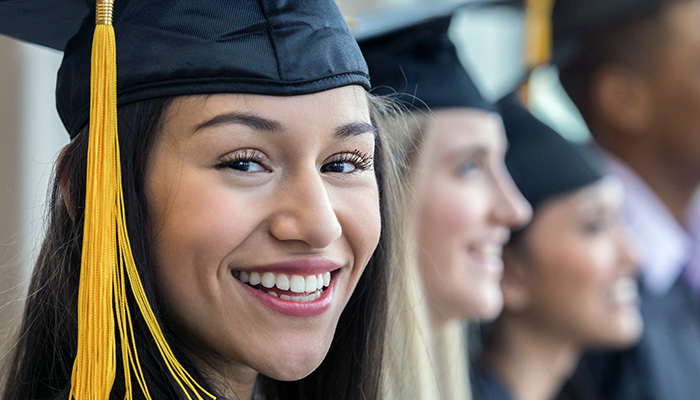 As the school year is coming to an end and excitement builds for graduation, it's a good time to start planning for the road ahead. While you may have already picked out colleges, applied for scholarships, or found employment, there are a few other steps you should take to prepare after graduation.
Being prepared for the next steps is about more than honing study skills or drafting a resume – it's also about ensuring that you have a solid financial foundation on which to build your future.
So, what can you do to prepare for your next steps?
Save
Learning how to save money is perhaps the most important skill you can learn as you prepare to go out into the world. A solid savings account will help you meet whatever comes your way.
Make sure you have a general savings account, as well as a "bucket" for emergencies. Whether you're entering the workforce or going off to college, it will give you peace of mind to know that you'll be able to stay afloat in hard times.
It's also never too early to start saving for retirement. As a soon-to-be graduate, retirement may seem like a long way off, but saving early can reap big rewards over the years. For students, there are several ways you can start retirement savings, including an Individual Retirement Account, or IRA. Learn more about the different types of IRAs, including the difference between a standard IRA vs a Roth IRA.
You can also begin an investment portfolio. Investing can be a long-term game, so it's important to start building your portfolio now. Try visiting your local banking center and speaking to one of our knowledgeable bankers about which investment options might be right for you.
And, of course, there's a regular savings account. Don't neglect to add funds regularly, as this is an important piece of your future. Saving money now – even if you're just able to put in $5 or $10 – will enable you to make a down payment on a house, purchase a car, or afford other big-ticket items in the future. But, most importantly, it will help you build a habit of saving.
Learn to Budget
If saving is the most important skill you can learn as a recent graduate, budgeting comes in at number two. A good budget gives you an accurate picture of how much money you have available at all times. By making sure bills, gas, and food are covered, you won't need to worry about having a fun night out with friends.
Learn how to build an airtight budget. You can also use one of our budget calculators to help you get started.
This is also a good time to build solid personal finance habits, as these will aid you moving forward.
Plan to Pay Back
If you plan to attend or just finished college, go ahead and make a plan to take care of your student loans. Yes, it's a bit of a buzzkill, but student loan debt is no joke – and the more prepared you are, the better it will be when they come due.
Try to build up a savings bucket just for paying off your loans and, if you're able, start making payments as soon as you can – before they start collecting interest.
If you need help creating a strategy, your local banker or a financial adviser should be able to help you build a solid payment plan to help you pay off student loans, fast. Once that's in place, stick to it. Remember, the faster you can get that debt paid down, the better.
Build Credit
Paying down your student loan debt can also be an important step to building up your credit score, which will come in handy in the future.
If you're able, try to get a credit card with a small limit from your local bank. But be careful not to charge too much to it! You'll want to make small purchases that you can immediately pay off – school supplies or a few clothing items for work could be a good tactic.
This will help raise your credit, which you'll need if you want to take out a mortgage, car loan, or a personal loan in the future.
Have Fun
Does all of this sound like it's way too far in the future? In some ways, it is, but the decisions you make now – yes, even the financial ones – will stay with you for a long time.
However, you are still young, and the future is bright and open. While it's important to start building responsible habits, don't forget to have fun and enjoy this period of life you are in! You're going to take the world by storm.