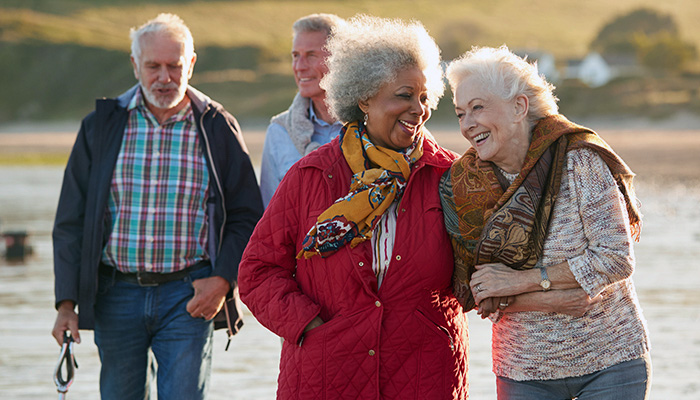 Ready to make the most of your retirement? For many, the word "retirement" brings to mind cruise ships, a new house on the beach, crossing items off a bucket list, or spending time with family. No matter what your goals are, having a comprehensive financial strategy will help keep your retirement worry-free.
According to the U.S. Social Security Administration, only half of Americans have calculated how much to save for retirement, and more than a quarter of private industry workers with access to a contribution plan – such as a 401k – actually contributed to that plan in 2020.
Retirement is a big part of our lives – it's the goalpost, and the finish line many professionals aim for. So it's important to make sure you're financially prepared for it, the same way you would prepare for any other major life event.
Rule Number One: Save
When it comes to preparing for retirement, saving is the all-important rule.
Make sure you start saving for the long-term as soon as you can. Remember, it's never too late to start saving money! Create savings goals to work towards and do your best to stay on track. A financial advisor or your local banker can help you define these goals and check in to make sure you're meeting them.
Try saving a small amount at first, and then gradually increase it as time goes on. Many financial experts recommend you save money in a manner that takes full advantage of company matching on certain retirement accounts. Need to know how much to save? Use one of our retirement calculators to help pinpoint the right amount.
Once it's in the bank, don't touch it. Be strict with yourself, and don't withdraw from your retirement savings. You'll reap big rewards on interest later on if that money remains where it is, and you can also avoid early-withdrawal penalties that apply to many retirement savings accounts.
And don't forget to diversify your savings. If you have an employer 401k, make sure you are making regular contributions – but it's also a good idea to contribute to an IRA, to have a savings account, and to funnel some money into investments. This way, you're not putting all of your eggs in one basket, and you have savings that aren't dependent on an employer. And remember, pay close attention to an IRA's Required Minimum Distribution (RMD). You'll want to find one that closely matches your budget.
You can talk to your local banker or financial adviser to figure out a savings plan that works for your lifestyle.
Budget
It's important to create a retirement budget as early as you can. Figure out about how much you'll need each month to maintain your standard of living – or choose to downsize and cut costs. Either way, you'll need to have a solid plan and budget in place.
One way you can do this is by simplifying your income and expenses. If you have multiple IRAs or 401ks, start the process of rolling them over into a few accounts to make it easier to keep track of funds, and to help you get a good idea of what you'll be dealing with once you retire. Track down any pensions, benefits, tax refunds, or other funds you might be owed. And don't forget to factor in Social Security!
In the lead-up to retirement, try to gradually cut back on your spending. This will allow you to accurately estimate what your expenses will be and allow you to adjust course before you fully retire.
As you build your budget, be sure to account for everyday costs, as well as for taxes you may owe on retirement savings and inflation.
Need some help building a retirement budget? You can check out our Budgeting 101 guide or use one of our financial calculators to help you create an airtight budget.
Prepare for the Future
While we often don't like to think about what will happen after we're gone – especially not when contemplating the excitement of retirement – doing just that is an important part of preparing for retirement. This is called "getting your affairs in order," and is vital to ensure that you are well taken care of in your golden years and that your loved ones are well taken care of in the years beyond.
A few things you can do to prepare include:
Make sure you have important documents somewhere secure but easily accessible.
If there are any debts you are still paying off, keep an updated list of the balances and what you owe.
Appoint a trusted family member to act as power of attorney for you should the worst happen.
Work with a lawyer and financial adviser to draft a will, distributing any assets that outlive you to your family, friends, and loved ones.
Taking these steps will give you peace of mind as you age and will enable you to enjoy your retirement to the fullest, without having to worry about what happens next.
Additional Resources
Preparing for retirement can be daunting, but we hope that these tips will help you put your best foot forward. You can get started by using one of our financial calculators to help you pay down debt, start your retirement budget, or calculate long-term savings. Then, visit your local banking center and speak to one of our knowledgeable bankers – they'll help walk you through the nuts and bolts of retirement planning.