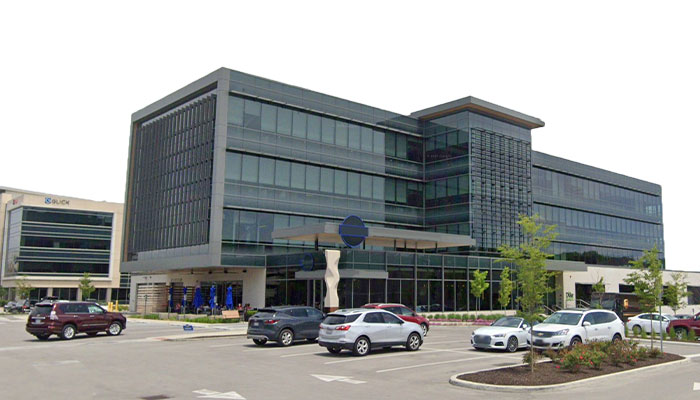 Wednesday, August 30, 2023
"The purchase of our new state-of-the-art Indianapolis regional headquarters building is tangible proof of our commitment to businesses, clients and the Indianapolis community. We are proud to serve the great state of Indiana, and our two decades of success in the greater Indianapolis market demands additional investment." — Mark Hardwick, CEO of First Merchants Bank
MUNCIE, Ind. – First Merchants Bank of Muncie, recently hailed by Forbes Magazine as one of The World's Best Banks, announced a building purchase August 29, 2023, for the strategic relocation of its Indianapolis area regional headquarters.
Mark Hardwick, CEO of First Merchants Bank, had this to say about the purchase of the Indianapolis regional office building:
"The purchase of our new, state-of-the-art Indianapolis regional headquarters building is tangible proof of our commitment to businesses, clients and the Indianapolis community. We are proud to serve the great state of Indiana, and our two decades of success in the greater Indianapolis market demands additional investment."
Hardwick added,
"This expansion is yet another milestone for our fast-growing bank. Along with our headquarters in Muncie, we also have regional headquarters in Fort Wayne, Lafayette and Munster, Indiana; Columbus, Ohio; and Farmington Hills and Monroe, Michigan, serving the greater Detroit area."
With assets of nearly $18 billion, First Merchants Bank stands as the largest bank headquartered in Central Indiana. First Merchants Bank was also recognized as "Best Bank for 2023" by Newsweek magazine. The American Banker recognized First Merchants as one of the "Best Banks to Work For." First Merchants Bank has also earned awards for "Best Company Culture," "Best Work-Life Balance," and "Best Leadership Team."
The new Indianapolis headquarters is located at 8711 River Crossing Boulevard. All operations in the Meridian Plaza Regional Office in Carmel, Indiana, will shift to the new office in early 2024.
Chief Financial Officer Michele Kawiecki had this to say about the location:
"It is one of the most desirable and strategic locations in Indianapolis. The building, which was previously the headquarters of Duke Realty, is a marvel of design and construction, having earned Leadership in Energy and Environmental Design (LEED) Silver certification by the United States Green Building Council and a Fitwel 2-Star Rating by the Center for Active Design for its health-promoting design."
Bank President Mike Stewart commented:
"More and more families and businesses across the nation are discovering what we Hoosiers have long known: Indianapolis is affordable, family-friendly, full of options for sports and entertainment and open for business. Indianapolis is a place where people and businesses prosper, and we're here for them every step of the way."
Indiana Economic Development Corporation Chief Strategic Officer and cabinet member to the Indiana Governor, Eric J. Holcomb, Ann Lathrop applauded First Merchants Bank's new regional headquarters:
"First Merchants Bank continues to strengthen its commitment to Indiana, and its growth is further enriching the lives of Hoosiers by providing high-quality careers. This strategic expansion will not only generate new careers but will contribute to a bright future for communities in central Indiana."
Indianapolis Mayor Joe Hogsett added,
"I am thrilled to welcome First Merchants Bank as the newest business to create a regional headquarters in our city. I commend First Merchants Bank for their leadership and dedication to making Indianapolis a more equitable and prosperous place for all."
###
ABOUT FIRST MERCHANTS CORPORATION
With nearly $18 billion in assets as of June 30, 2023, First Merchants Corporation (NASDAQ: FRME) is a registered bank holding company offering a full line of commercial and consumer banking services and wealth management services through First Merchants Bank and First Merchants Private Wealth Advisors in Indiana, Illinois, Michigan, and Ohio. With more than 130 years of enhancing the financial wellness of the diverse communities it serves, First Merchants makes meaningful contributions through Employee Empowerment, Philanthropy and Charitable Giving, Financial Wellness, Community Home and Business Lending, and Diversity, Equity, and Inclusion. The company has been honored for its attentive and knowledgeable service and culture by Forbes, Newsweek, American Banker, Comparably, and S&P Global Intelligence "Best Banks" awards. First Merchants Bank attributes this recognition to a mission-driven team that is passionate about " helping you prosper" through attentiveness as its genuine and unique approach to customer service. To see how First Merchants Bank is making a difference, go to (www.firstmerchants.com).