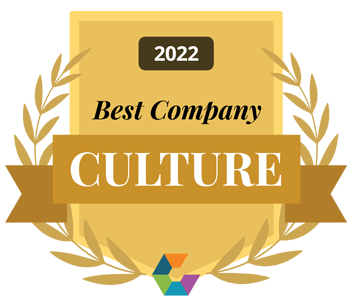 Friday, December 16, 2022
MUNCIE, Ind. – First Merchants Bank has been recognized nationally by Comparably in the Q4 2022 Awards roundup for "Best Company Culture" in 2022.
This award is the third for First Merchants Bank from Comparably in 2022. The "Best Company Culture" award evaluates 70,000 companies and First Merchants ranked in the top 5% of other large companies with 1,001-5,000 employees with an "A+" rating.
"We have intentionally nurtured a brand-focused culture of 'helping you prosper', said Mark Hardwick, CEO of First Merchants Bank. "We believe by that a diverse and supportive environment, fueled by a culture of authenticity will inspire employees to do their best work for the clients and communities we serve."
Comparably is a leading employee review website and the only platform showcasing workplace culture, salary, and corporate brand reputation data. Comparably awards companies based on sentiment ratings anonymously provided by current employees about their workplaces in several categories during a 12-month period. Winners of "Best Company Culture" are decided based on nearly 20 core culture metrics including satisfaction with compensation, career growth, leadership, and work environment.
"These awards are humbling for those of us in leadership at First Merchants," said Steve Harris, Director of Human Resources. "They serve as an affirmation that our strategic imperatives resonate with our people. We will continue to work toward a culture of inclusivity, teamwork, career development, total rewards, and work-life balance. Our people are the core of who our company is and how we make a positive difference in the communities we serve. It is crucially important for us to collectively create a culture that attracts and retains talented people."
This year has proven to be a year of recognition for First Merchants, both by employees and by the communities it serves. Comparably recognized First Merchants for "Best Company Leadership" in July and "Best Company Work-Life Balance" in October. The "Best Company Culture" recognition is the eighth award for First Merchants in 2022.
If you'd like to join a winning and inviting culture, check out First Merchants Bank career opportunities.
Check out First Merchants Bank on Comparably.
###
About First Merchants Corporation
First Merchants Corporation (NASDAQ: FRME), with assets of more than $18 billion and operating in Indiana, Illinois, Ohio and Michigan, is the parent company of First Merchants Bank. The Muncie, Indiana-based bank is committed to providing exceptional financial services while making meaningful contributions in each community it serves. First Merchants Bank promotes economic mobility through its five community pillars: Employee Empowerment; Community Investments and Charitable Giving; Financial Wellness; Community Home Lending; and Diversity, Equity and Inclusion. The company has been honored for its excellence in banking by Forbes, Newsweek and S&P Global Intelligence and attributes this recognition to a mission-driven team passionate about helping you prosper. To see how First Merchants Bank is making a difference, go to (www.firstmerchants.com).