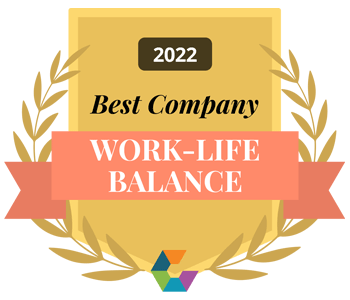 Thursday, October 13, 2022
MUNCIE, Ind. – First Merchants Bank has been recognized by Comparably in the Q3 2022 Awards roundup. The bank was awarded Best Company Work-Life Balance.
"First Merchants Bank is proud to receive this recognition because it reinforces our culture of care and it highlights our "Helping You Prosper" service mindset." said First Merchants CEO Mark Hardwick. "We believe in our passionate and hard working team members and work to support their lives – inside and outside of business hours– so that they can bring their whole healthy self to work. That support is central to our delivering exemplary and distinctively attentive service to all customers across all the communities we serve. We look forward to continuing to positively develop a workplace where all employees feel inspired to do their best work for our clients."
First Merchants Bank prioritizes respect among its diverse team members. Its commitment to corporate social responsibility is evident in its employee benefits and policies. First Merchants stresses the importance of paid time off for personal vacations and sick days, taking the time to celebrate holidays and bereavement for the loss of loved ones. In support of these goals, First Merchants implemented a hybrid work model for qualified roles and launched PTO designations for caring for sick family members.
First Merchants now closes its doors on Juneteenth and encourages employees to celebrate the day in their local community. This year, many employees attended fundraisers and festivals to honor their culture. Due to these, and other, supportive policies and leadership decisions, First Merchants continues to have high employee engagement survey results, with employees highlighting strong, positive relationships between team members and their managers.
Comparably awards are calculated from sentiment ratings anonymously provided by employees about their workplaces in several categories during a 12-month period. Winners are decided based on key factors including satisfaction with work-life balance, lunch break lengths, average hours worked per day and if an employee feels burnt out.
This is the second Comparably award for First Merchants in 2022, the first one being for Best Leadership Team. Additional awards this year include being ranked among the top 20 banks by S&P Global Market Intelligence, as a Best Bank by Newsweek for the second year in a row, fourth in the list of the 2022 Great Employers to Work for in Indiana by Best Companies Group, and top bank in Indiana for customer satisfaction by Forbes.
###
About First Merchants Corporation
First Merchants Corporation (NASDAQ: FRME), with assets of more than $18 billion and operating in Indiana, Illinois, Ohio and Michigan, is the parent company of First Merchants Bank. The Muncie, Indiana-based bank is committed to providing exceptional financial services while making meaningful contributions in each community it serves. First Merchants Bank promotes economic mobility through its five community pillars: Employee Empowerment; Community Investments and Charitable Giving; Financial Wellness; Community Home Lending; and Diversity, Equity and Inclusion. The company has been honored for its excellence in banking by Forbes, Newsweek and S&P Global Intelligence and attributes this recognition to a mission-driven team passionate about helping you prosper. To see how First Merchants Bank is making a difference, go to (www.firstmerchants.com).