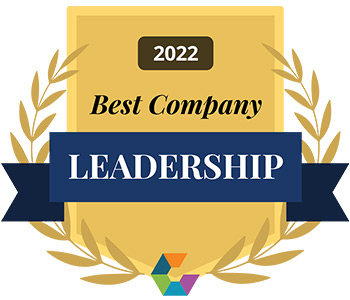 Wednesday, July 13, 2022
MUNCIE, Ind. – First Merchants Bank announced today it has been recognized by Comparably for Best Leadership Team. This annual award identifies leaders and leadership teams who are driving positive cultural change across companies large and small. First Merchants Bank was selected by Comparably as being in the top 5% of all financial services companies evaluated for their leadership qualities.
This Comparably Award is derived from employee sentiment ratings provided anonymously by employees about their leadership teams (CEO, executives, and direct managers) on Comparably.com during a 12-month period. "Great culture is driven by strong leadership teams who know how to work together to bring out the best in their people," said Comparably CEO Jason Nazar. "First Merchants Bank employees applauded their leaders for being transparent, approachable, and committed to community and company culture."
"I am thrilled to receive this recognition because it reinforces what we strive to do every day, and that is to give our employees the resources and positive support they need to grow and feel genuinely fulfilled by their work," said First Merchants CEO Mark Hardwick. "We strongly believe in our people and culture and support them in authentic ways. That support is central to our delivering exemplary and distinctively attentive service to all customers across all the communities we serve. We look forward to continuing to positively develop a workplace where all employees feel inspired to do their best work for our clients."
This is another award in a series of reputable third-party recognitions for First Merchants Bank this year. First Merchants has been ranked among the top 20 banks by S&P Global Market Intelligence, as a Best Bank by Newsweek for the second year in a row, and as fourth in the list of the 2022 Great Employers to Work for in Indiana by Best Companies Group. First Merchants Bank was also recognized in June of 2022 as a "Best-in-State" bank by Forbes for a superior customer experience across the following full range of key customer needs: branch services, digital services, financial advice, trustworthiness, overall customer services, general satisfaction, and terms & conditions.
###
About First Merchants Corporation
First Merchants Corporation (NASDAQ: FRME), with assets of more than $18 billion and operating in Indiana, Illinois, Ohio and Michigan, is the parent company of First Merchants Bank. The Muncie, Indiana-based bank is committed to providing exceptional financial services while making meaningful contributions in each community it serves. First Merchants Bank promotes economic mobility through its five community pillars: Employee Empowerment; Community Investments and Charitable Giving; Financial Wellness; Community Home Lending; and Diversity, Equity and Inclusion. The company has been honored for its excellence in banking by Forbes, Newsweek and S&P Global Intelligence and attributes this recognition to a mission-driven team passionate about helping you prosper. To see how First Merchants Bank is making a difference, go to (www.firstmerchants.com).