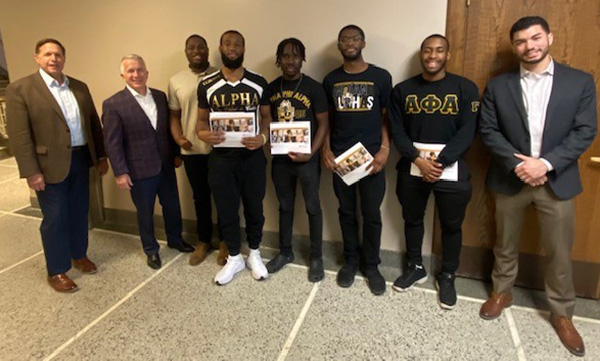 Monday, June 6, 2022
Few things are more important than inspiring young people to take control of their finances. David Greene, Region President for First Merchants Bank, experienced that first-hand when he and other team members recently spoke to the Alpha Phi Alpha fraternity at Purdue University in West Lafayette, Ind.
Alpha Phi Alpha is a fraternity dedicated to the support of African American students, and David said he was thrilled to be able to visit and talk with students about personal finance, commercial finance, and possible careers in banking.
"Most people think that the only job available at a bank is being a bank teller," David said. "But that's not true – the students were surprised to learn that we have jobs in treasury management, or private wealth, or lending, or information security."
David and his team also walked students through the basics of personal finance – and the students sat up and took notes.
"We went through everything from investing, debt, and managing a personal savings account," David shared. "We ended up not even getting through the whole presentation, because we had really cool discussions with the students. They would ask really thoughtful, interesting questions and really wanted to dive deeper into some topics – like what it's really like to get a 30-year mortgage when you're in your 20s. It ended up being a really positive, rewarding experience for everyone involved."
And, David hopes that conversation will help inspire the next generation of finance professionals.