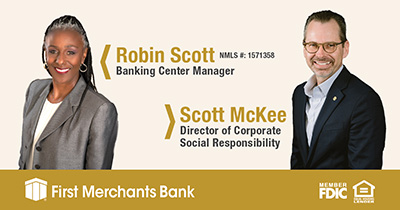 Wednesday, April 27, 2022
What does it take to move the needle when it comes to advocating for Black-owned businesses and Black communities? Robin Scott, First Merchants Banking Center Manager for the new
Northland Banking Center in Columbus, Ohio
, and
Scott McKee, Director of Corporate Social Responsibility
with First Merchants, recently sat down with the Central Ohio African American Chamber of Commerce (COAACC) to discuss exactly that – as well as to promote the Northland Banking Center.
According to Scott, being a good ally and advocate begins with listening.
"One of the things we've been told we're doing differently is listening," Scott shared. "We've been hearing that over and over. We try to listen to what the community's needs are, what obstacles they're facing; and we work hard to not enter a neighborhood with a preconceived notion of what's needed. We call it 'Leading with our ears,' and it's something that's been really well received."
It's a process that begins with physically going into communities, long before a banking center is erected, Robin explained.
"I go out and meet with business owners in the community to find out what they need, what products and services they want to see to help their businesses grow," she said. "Then I take that information back to First Merchants so that we can find and develop products to meet those needs."
When asked what makes a banking relationship with First Merchants unique, Robin highlighted that it was just that: a relationship.
"It starts with relationship-building," she shared. "It's not just about what we can offer – it's a consultative approach, not one size fits all. We are building something specifically for your businesses."
Scott further emphasized the importance of establishing a banking center in the Northland area – which is a low- to middle-income area that has been traditionally un- and under-banked.
"We chose that area because of its diverse population – because we know that one of the biggest hurdles for minority-owned businesses is access to capital," he said. "So we're putting that banking center where it's needed. We believe there is a great future in Northland, and we want to be part of it."
The panel discussion was part of COAACC's recurring series, "Four Questions with COAACC."
Watch the full interview
.