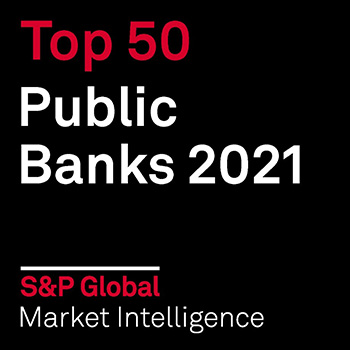 Wednesday, March 30, 2022
Citing growth and efficiency, Muncie-based financial institution ranks 19th in U.S.
MUNCIE, Ind. – First Merchants Bank has been named a top 20 financial institution by S&P Global Market Intelligence. The ranking looks at the performance of public banks above $10 billion in assets throughout the United States. Indiana-based First Merchants Bank ranks as the country's 19th top performing bank for 2021.
"It is an honor to be recognized for our strength and stability as a financial institution," said First Merchants CEO Mark Hardwick. "We work hard every day, and in every market, to be the best bank we can be. As much as we appreciate this honor, our greatest achievement is being able to make a difference in the communities we serve by being part of the larger conversation on financial wellness and service to others. This is among the many ways we impact people's lives through our 'helping you prosper' mindset."
First Merchants Bank, which launched an all-encompassing corporate responsibility effort late last year, ranked 19th among public U.S. banks with more than $10 billion in assets. The Muncie, Ind.-based bank recorded record growth in 2021 with total assets equaling $15.5 billion as of year-end, and loans totaled $9.3 billion. Net-interest income totaled $410.7 million for the year, an increase of $28.6 million or 7.5 percent, and this growth and performance was one of the main drivers of the bank's 2021 ranking.
S&P Global Market Intelligence ranked the financial performance of operating U.S. public banks with greater than $10 billion in total assets as of Dec. 31, 2021, and trading on the Nasdaq, NYSE or NYSEAM. Companies were ranked based on three major categories, using calendar-year data as well as Generally Accepted Accounting Principles (GAAP) data unless otherwise noted: growth, weighted at 35%; profitability, weighted at 35%; and safety and soundness, weighted at 30%. S&P Global Market Intelligence ranks institutions based on returns, growth and efficiency but places a premium on the strength and risk profile of balance sheets.
First Merchants Bank is the second largest Indiana-based financial services institution holding assets of approximately $15.1 billion and 106 banking centers in Indiana, Illinois, Michigan and Ohio. This honor for First Merchants Bank is the third in the last five years from S&P Global Intelligence and builds on other significant recognitions by Newsweek (ranked as "Best Bank" two years in a row) and Forbes (ranked in top 25 on Forbes "America's Best Banks").
###
About First Merchants Corporation
First Merchants Corporation (NASDAQ: FRME), with assets of more than $15 billion and operating in Indiana, Illinois, Ohio and Michigan, is the parent company of First Merchants Bank. The Muncie, Indiana-based bank is committed to providing exceptional financial services while making meaningful contributions in each community it serves. First Merchants Bank promotes economic mobility through its five community pillars: Employee Empowerment; Community Investments and Charitable Giving; Financial Wellness; Community Home Lending; and Diversity, Equity, and Inclusion. The company has been honored for its excellence in banking by Forbes, Newsweek and S&P Global Intelligence and attributes this recognition to a mission-driven team passionate about helping you prosper. To see how First Merchants Bank is making a difference, go to (www.firstmerchants.com).