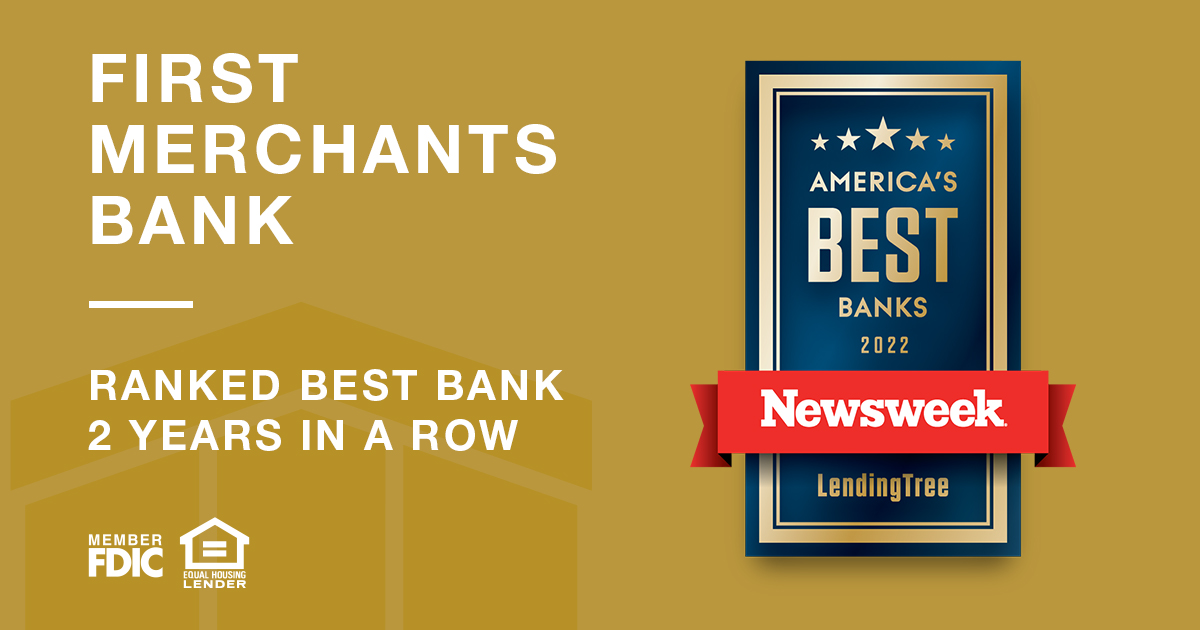 Wednesday, November 10, 2021
MUNCIE, IN. -- Newsweek has released the 2022 America's Best Bank rankings, and First Merchants Bank holds the top big bank spot for the second year in a row. This honor recognizes the bank's work in Indiana. Newsweek also rated First Merchants as a leading bank in the U.S. for its service to clients during challenging times and ability to provide exceptional customer service built on long-lasting relationships.
"We are honored to be recognized among the leading financial institutions nationally based on the high quality of our service and ability to effectively meet customer needs," said First Merchants CEO Mark Hardwick. "While the award makes special recognition of our bank in the state of Indiana where we are headquartered, over the years, we have expanded into Illinois, Michigan and Ohio. Consumers, businesses and other organizations across the communities we serve in nearby states can also enjoy and benefit from how we do business. We focus on enhancing the financial wellness of the people we serve. Newsweek simply recognizes our commitment to helping customers prosper by effectively meeting their needs."
According to Mike Stewart, President of First Merchants: "First Merchants is unique because we are large enough to have the necessary offerings and resources of any bigger bank, yet we pride ourselves on delivering those resources in a better and more customer-focused way. As a community bank, we emphasize and prioritize providing high-quality service to people across the local communities we serve, developing trusted relationships to enhance the financial well-being of all our customers. From online banking experiences that are competitive with large national banks to initiatives that support underinvested communities and local causes, we're committed to making our banking products and services helpfully accessible for everyone within the communities we serve."
Newsweek partnered with LendingTree to rank the country's best banks by state from an assortment of FDIC-insured banks and financial institutions. Newsweek ranked U.S. banks based on the quality of their savings and checking accounts, considering more than 50 different factors including fees, current and historical interest rates, account terms, consumer service features, mobile app satisfaction and bank profile.
Newsweek selected Best Bank winners from among 2,508 financial institutions and assessed them on more than 30 separate factors, covering the overall health of the bank, customer service performance and features, digital and branch presence, account and loan options, interest rate offerings and fees. Specific metrics included average service charges collected on deposit accounts during the first quarter of 2021, average interest paid on deposit accounts during the first quarter of 2021, number of complaints submitted to the Consumer Financial Protection Bureau and how quickly the bank responded, types of loan and account products offered, mobile app scores and banking center presence.
In Newsweek's article, Kerri Anne Renzulli, Senior Reporter, noted that customers experienced increased needs and demand for effective remote banking services across the past 18 months due to the pandemic. With more digitalized tools to improve financial wellness, customers are seeing increased efforts for a banking environment that fosters community and long-term relationships. These same principles reflect the foundation that First Merchants was built upon, with a continuous commitment to better digitalizing financial services, improving mobile banking and utilizing a people-first approach to understand each customer during these times.
First Merchants has assets of approximately $15.1 billion and 106 banking centers in Indiana, Illinois, Michigan and Ohio.
* * *
About First Merchants Corporation
First Merchants Corporation is a financial holding company headquartered in Muncie, Ind. The Corporation has one full-service bank charter, First Merchants Bank. The Bank also operates as First Merchants Private Wealth Advisors (as a division of First Merchants Bank). First Merchants Corporation's common stock is traded on the NASDAQ Global Select Market System under the symbol FRME. Quotations are carried in daily newspapers and can be found on the company's website (www.firstmerchants.com). FIRST MERCHANTS and the Shield Logo are federally registered trademarks of First Merchants Corporation.