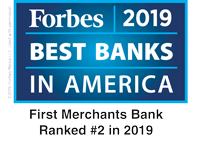 Monday, February 4, 2019
Forbes has released its 2019 list of "America's Best Banks," and for the second straight year, one of Indiana's legacy financial institutions sits near the top. First Merchants Bank, the largest financial services holding company in Central Indiana and the second largest in the state, was ranked by Forbes as the country's second best bank.
"We are extremely proud of this achievement as it speaks to the financial strength of First Merchants clients and future viability of the communities we serve," said First Merchants CEO Michael C. Rechin. "We are successful when they are successful, and every single one of our 1,700 employees plays a key role in making that happen. They deserve all of the credit."
First Merchants, ranked fourth in 2018 by Forbes grading of the country's 100 best banks, once again ranks ahead of peers like JP Morgan Chase, Fifth Third Bancorp and Citigroup.
Forbes ranked banks based on 10 metrics related to growth, profitability, capital adequacy and asset quality. Metrics include return on average tangible equity, return on average assets, net interest margin, efficiency ratio and net charge-offs as a percent of total loans.
On January 31, 2019, First Merchants Corporation reported record net income for 2018 totaling $159.1 million, compared to $96.1 million in 2017. 2018 earnings per share was $3.22, a record level as the company celebrated the Corporation's 125 th anniversary.
Michael C. Rechin, President and Chief Executive Officer, stated, "Our teammates connect with the needs of the marketplace and our communities while our execution produces results and efficiency. We look forward to 2019 and extending our franchise into Michigan through our merger with Monroe Bank and Trust."