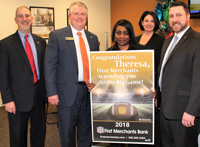 Monday, February 5, 2018
East Chicago resident Theresa Jenkins wins package worth more than $12,000
Hammond, Ind. – First Merchants Corporation (NASDAQ – FRME) announced Thursday that Theresa Jenkins won the Gold Standard Rewards™ Super Bowl drawing. The prize includes two Super Bowl LII tickets at U.S. Bank Stadium in Minneapolis and two nights of hotel accommodations.
Gold Standard Rewards is First Merchants' debit card rewards program. Clients using their First Merchants Bank MasterCard® Debit Card earn points with every signature or credit purchase. Clients can redeem points for electronics, gift cards and travel perks and are eligible to enter into drawings such as the Daily Wins Super Bowl drawing.
"I started banking with First Merchants in July of last year," said Jenkins. "I love the rewards program. It is the number one benefit of banking with First Merchants."
Jenkins plans to attend the Super Bowl for the first time with her fiancé in celebration of his upcoming birthday on Feb. 20.
"Throughout our 125-year history, First Merchants Bank has been committed to giving back to our community and clients," said First Merchants Lake Shore Region President Daryl Pomranke. "We are excited to provide a local client with the once-in-a-lifetime chance to attend the Super Bowl, and we thank Ms. Jenkins for choosing First Merchants as her bank and using Gold Standard Rewards."