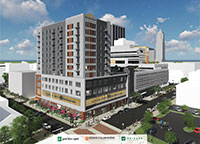 Thursday, January 25, 2018
Company will occupy more than 17,000 sq. ft. in the heart of downtown Fort Wayne
FORT WAYNE, Ind. – First Merchants Corporation (NASDAQ - FRME) today revealed the home for its newest regional headquarters: Skyline Tower in downtown Fort Wayne. The company, which operates more than 120 banking centers in Indiana, Illinois, and Ohio, will occupy all 17,750 sq. ft. of the building's second floor office space. In addition to adminstrative functions, First Merchants will offer Commercial Banking, Private Wealth and Credit services at the location.
Muncie-based First Merchants Bank has 16 locations in the Fort Wayne area and is planning substantial investment to grow that presence.
"Fort Wayne is one of the Midwest's fastest growing cities," said First Merchants Executive Vice President and Chief Banking Officer Michael Stewart. "There is tremendous opportunity in this market, and our new downtown location will be the perfect space to provide convenience and expertise to our clients and the surrounding community."
Skyline Tower, a $44 million mixed-use development located two blocks north of the Grand Wayne Center, is 12 stories tall and will feature 124 apartments.
"We continue to see investments in downtown Fort Wayne like never before," said Mayor Tom Henry. "It's great to welcome First Merchants Bank to the heart of our city as a tenant at Skyline Tower. This entire development is assisting us with the momentum and excitement we're experiencing in our community."
First Merchants Bank has generated major headlines in recent months, announcing record earnings, successfully completing two high-profile acquisitions, and earning a top-five ranking by Forbes on their annual list of America's 100 largest banks released last week.
"First Merchants Bank is now part of the inner core driving Fort Wayne's unbelievable transformation," said William Thatcher, First Merchants' Fort Wayne Region President. "After reviewing and researching several options, it was clear that Skyline Tower was the best fit for us to continue serving this growing market. We look forward to growing with Fort Wayne and continuing the wonderful partnerships developed throughout this process."
Skyline Tower is currently under construction and is expected to be completed later this year. Project developer Great Lakes Capital (GLC) and property manager Bradley Company previously announced Ruth's Chris Steak House as the building's first-floor tenant.
"We are very pleased to have First Merchants Bank on board as an anchor tenant," said Brad Toothaker, Managing Partner of Great Lakes Capital and President and CEO of Bradley Company, "This project has brought together businesses and the community to create a project that truly transforms the region as it continues to advance the landscape of downtown Fort Wayne."
"The vision for Skyline Tower has been to create a new standard of quality while also acting as a catalyst for continued development," said David Arnold, Director of GLC. "First Merchants Bank's commitment to Skyline Tower and downtown Fort Wayne is an affirmation of achieving that vision for our project and our community."
"Weigand Construction is proud to be involved with another business choosing to locate its regional headquarters in downtown Fort Wayne," said Larry Weigand, CEO of Weigand Construction. "We are pleased to be First Merchants Bank's contractor and look forward to cutting the ribbon on this exciting space in the new Skyline Tower this summer."